Knowledge Powers
Innovation
and Growth
Unlock your team's potential
A company's most important and abundant resource is the vast knowledge that exists across its employees, documents, and media. Bloomfire is the knowledge management platform people actually want to use to share their insights, collaborate across teams, and learn from others.
Promote Informed and Timely Decision-Making
Your

Purpose-Built

Knowledge Management Platform
Bloomfire enables your company to collect, connect, and distribute knowledge and insights that exist across your organization.
Our Customers Report:
Average ROI of 9:1 (based on time savings alone)
93% Faster onboarding
95% more content viewership and better understanding
Schedule a call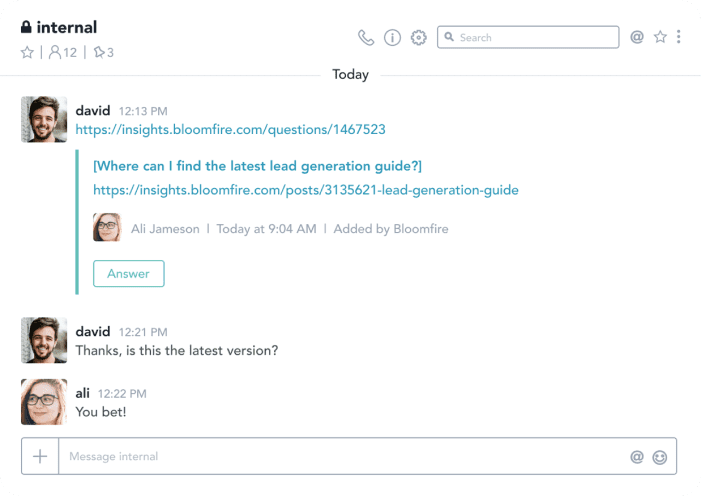 Empower your users with AI-Enabled Search

Provide users fast and easy access to information so they can work more efficiently. Our AI-powered search engine deep indexes every word in every file — and even transcribes words spoken in videos and audio files, allowing you to jump to the exact point in a video where a keyword or phrase is said.

Let Your Experts Publish in Multi-Media

Enable your experts to share knowledge in an engaging and digestible format. Share nuanced information through a combination of text, charts, images, audio, and video. Our rich text editor makes it easy to convey your knowledge in whatever format you choose, no coding required.

Leverage Analytics to Increase Engagement

Gain a deeper understanding of content engagement using built-in analytics so you can improve your content, spot knowledge gaps, and identify the most important information.

Establish a knowledge hub that feels familiar to your users. White label your Bloomfire community, add branding elements and create customizable categories to help users intuitively navigate the platform.
See why Conagra loves
Bloomfire
Consumer packaged goods company Conagra Brands prioritizes data-driven decisions and needed a platform that was first in class for quickly and accurately disseminating insights across a wide variety of brands. Today, they use Bloomfire as their go-to platform for insights, market research, and thought leadership content. Conagra's Manager of Demand Science says "The team members who are contributing to Bloomfire experience a sense of joy knowing the work they're doing is being used by decision-makers."
Promote

Informed and Timely

Decision-Making
See how Bloomfire helps companies find, distribute, and maximize the value of their most important knowledge